Many of us already work from home full or part-time but the recent lockdown means a lot more families have been unexpectedly faced with this situation without being able to plan for it. This is obviously a huge change for households and it will bring with it some additional challenges like separating work from home life. That is why I want to share with you some tips on how I've adapted to working from home.
1.The importance of boundaries
In both my past & current careers I worked from home to some degree. I learned it was really important to be able to switch off from your work & not let it encroach on your home life. So if you are just setting up your home office for the first time you ideally want a space where you can work in private be it a spare bedroom, dining room or if you can't do that a spare corner of a room. Where you can have exclusive use of the room for a period of time & also be able to pack away at the end of the day. This is so you can leave work behind at the end of the day and not be tempted to answer a quick email!
2. Location, location, location
Where is your home office going to be? Ideally, you want to have a dedicated space to work so you are able to shut off from it at the end of the day. Otherwise, you will have no separation between home and work life. If it can't be a dedicated space, can you have the space for certain periods of time throughout the day so you can work with no interruptions. In this case, it might be useful to create a household schedule so your working times are respected. It may be a corner of a room can be turned over to a home office, or if you are fortunate enough to have a room that you can use e.g. an unused bedroom. This is our home office up until two years ago it used to be my workshop which is now in the chapel. We've made it over and now we use it as an office, snug and spare room.
3. Your desk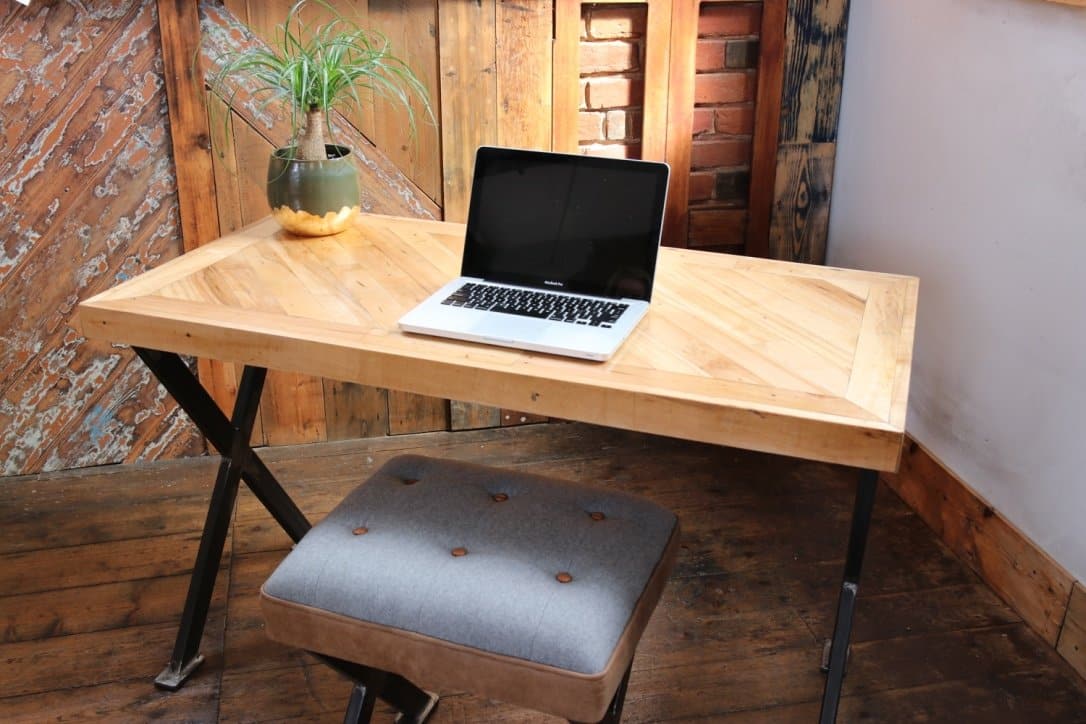 A critical part of planning your home office is a desk. Think about how much space you need room for: a computer, notebook, drink etc. If you don't' have the space for a dedicated home office your desk may need to have multi-purposes e.g. if it's in your bedroom it might need to be a desk and dressing table. If you are fortunate enough to have a dedicated space or room think about the size of space you need for your home office. The important thing is for you to be able to use this desk as a workspace, so comfort is key to good work performance!
Your work area needs to be somewhere that gives you pleasure and sets the mood for the working day. This is why it is not just about the essentials, but about what makes you happy! Your desk should motivate you to give your 100% so having family pictures or colourful stationery.
4. Storage
With new territory comes new responsibilities. As such, all the files we used to have at the office now need a new home; that is why creating storage space and having it organised will make your life easier. It doesn't need to be a big space, somewhere to pack away all of your files, stationery, store your laptop and anything you associate with work. This way you can make separating your leisure time from your office hours a lot easier.
5. Lighting & Nature
At this point, something you need to ask yourself is: Do you have sufficient natural light to work with?
If not, look to see if you can repurpose another lamp from a different part of the house. Test a few types of lighting out to see what you need to work with. Lighting can maximise your mood, improve your productivity and creativity. Having plants around has similar effects. Studies have shown that the presence of plants mitigates stress-related conditions such as anxiety, depression, fatigue, and hostility. This could be due to the fact that plants make the workplace appear more calm and serene according to Women on business. So if you can have a plant around, you can increase your chances of having a better work performance. I love having plants around the house!
I hope these tips help you as much as they have helped me throughout the years. If you need help planning your home office please call on 01260 609021 or email us for any advice. We can design and make you the perfect desk, seating or storage to make your home a work-friendly place!